I decided to make some art as presents this year and since they've all been given, I'm going to share them with you all :)
Disclaimer: I don't own any of the shows/movies/etc. And please do not take unless the giftee has stated that they do not mind if you take.
I made these for Rodney Is Godney over in the GW Forum.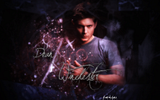 These I made for
hyndara71


These I made for my friend in the GW Forum Tesla/Teslen threads, Glitch33


These I made for those threads: